| 90 sec read | by Doug Marrin |
In the Ann Arbor area the month of July always comes with tremendous anticipation and excitement – Ann Arbor Art Fair! The four day event, held this year Thursday, July 18, through Sunday, July 21, transforms the city into a euphoric experience of original art, street performances, culinary delights, and sales that appeal to both the novice and aficionado.
It is an event that business owners look forward to in order to get a boost during the slower summer months and visitors enjoy the festival that breaks up the long calendar haul between July 4 and Labor Day. The Ann Arbor Art fair is actually composed of four separate street fairs working in harmony to create the big event.
How it all got started
In 1960, business owners around South University Street got together and invited artists to do their thing out in the street hoping to attract some visitors during the slow summer months. It took off huge and the next year was dubbed the "Street Art Fair."
By 1970, the event was regularly maxed out with artists and a group of U of M students organized their own art event on the university's Diag. Again, a big hit and the second year were included in the organized event being positioned on East University Street.
By the year 2000, four organizations were now involved in the event with each one having their own turf to organize and manage collaboratively under the auspices of the overall event.
Artist selection
As soon as the current year's Art Fair follow-up meetings are finished, planning begins immediately for the next year. Artist applications have already been submitted and the review begins. In the case of sponsors, planning often goes more than a year ahead.
Each of the four fairs select their own artists and the artists can apply to as many fairs as they want. When the artists apply, they are juried with a list of requirements with a "yes" or "no" if they meet that requirement. A score is assigned with the highest scores invited.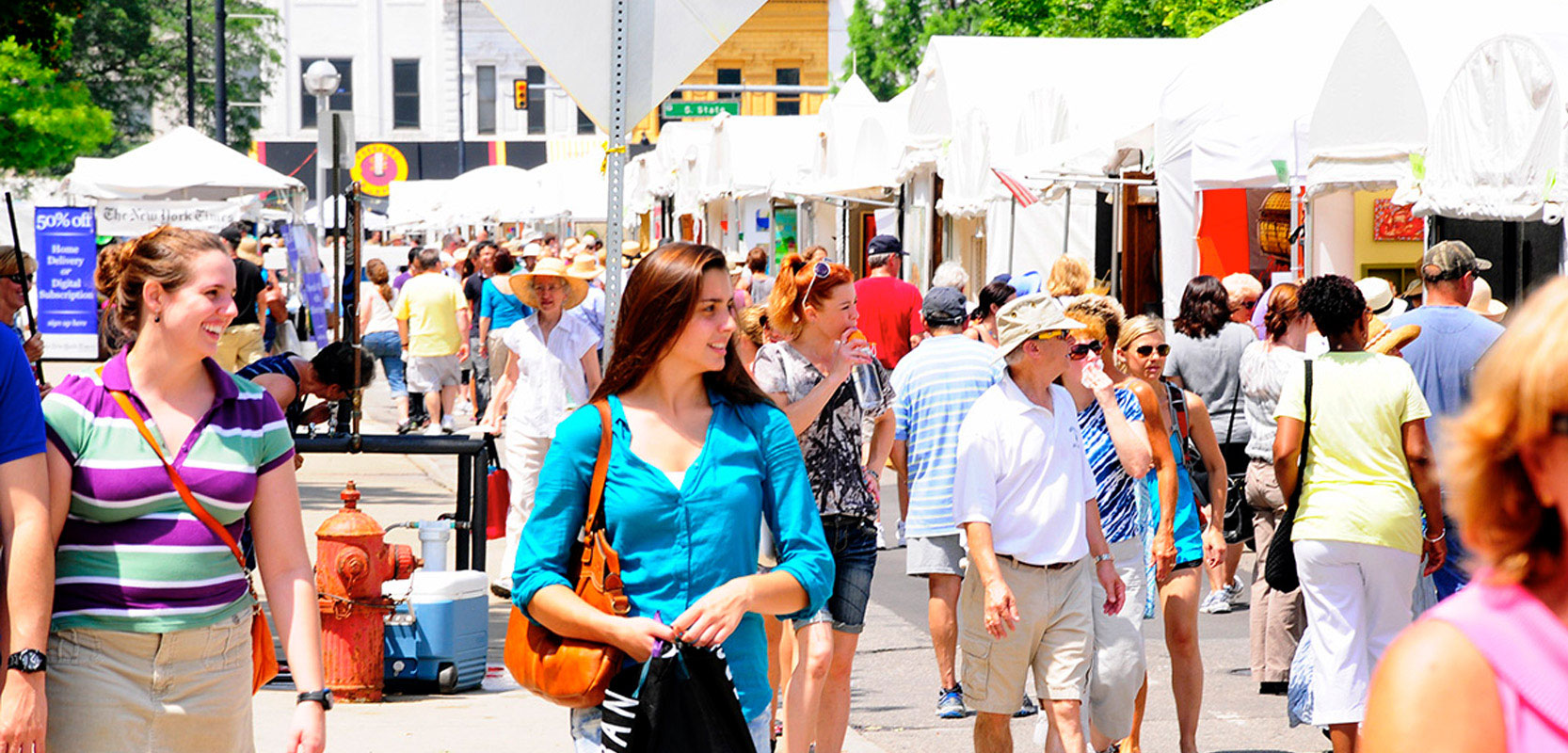 Just go
For almost 60 years the best of the best in art, entertainment, and food have been filling the streets of Ann Arbor for one of the largest events of its kind in the country. With four fairs, in four directions, whichever way you turn, no matter where you explore, you will experience a rich tapestry of sights, sounds and thrills.
More information on The Ann Arbor Art Fair can be found here.